Food is the daily sacrament of unnecessary goodness,
ordained for a continual remembrance that
the world will always be more delicious than it is useful.
Necessity is the mother only of clichés.
It takes playfulness to make poetry.
~Robert Farrar Capon, The Supper of the Lamb: a Culinary Reflection, p40~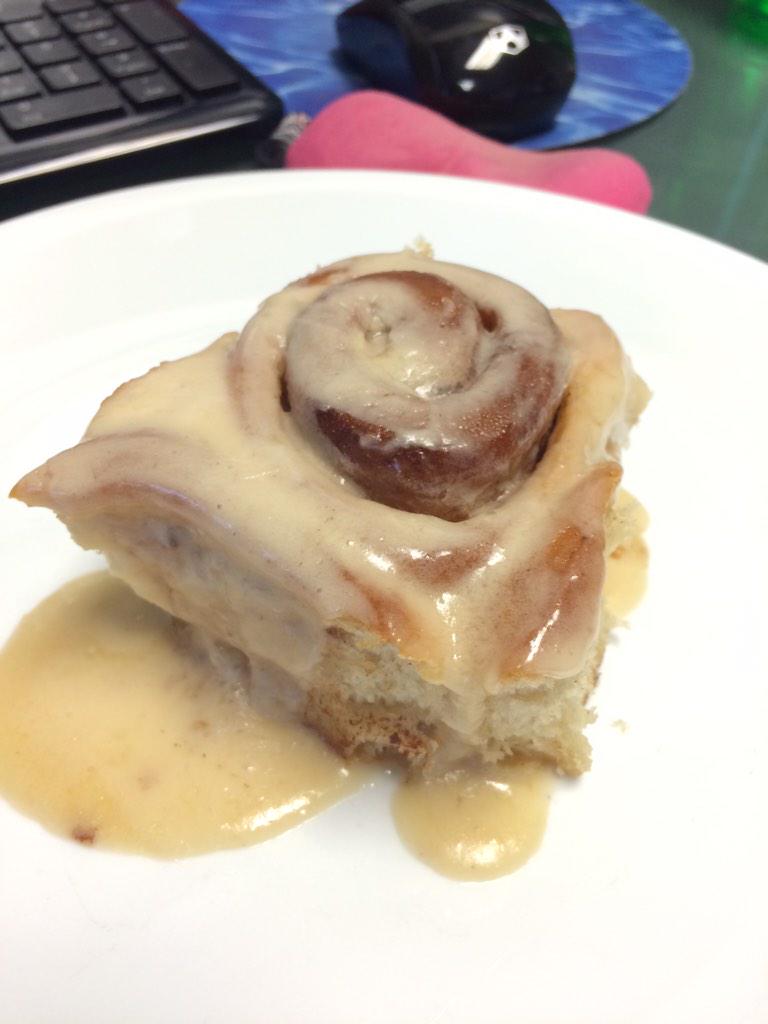 Courtesy of one of my hubby's coworkers a couple weeks ago, that's a little peek at some of the yummy goodness that I sent to Steven's office to cheer the hard laborers there. I like to send goodies every so often (I would like to do it at least monthly, but my brain & my follow-through is not always up to par with my desire!) But I am kind of well known there for my cinnamon rolls. A few years ago, I tried this recipe and now I just have my own sort of recipe (guidelines, really…) in my head, and I just make them from my own memory, and with my own intuition, using my own five senses. And honestly, while I did not grow up liking cinnamon rolls all that well (even though my mother totally rocks at them!!), I do miss these cinnamon rolls on my low-sugar, gluten-free diet. It is the sugar, the gluten, and the way the yeast rises in glorious goodness that makes these the cinnamony delights that they are.
Don't go easy on the butter, don't forget to use a heavy hand with sugar and cinnamon, and don't mess with the flour ~ gluten free or freshly ground whole wheat, for instance? Umm NOPE. Don't even bother. Don't waste your time. If you aren't going to indulge in the best cinnamon rolls in the world, then don't even try to ease in around the edges. Some things have to be full fat, full sugar, full gluten. And these are definitely a solid case in point.
I had signed up to bring coffee hour snacks following yesterday morning's worship service. It's funny how different groups of folks can be. (Yes, little rabbit trail: oblige me, please.) At our old church, it was practically like pulling teeth & twisting people's arms to bring enough food for stuff, or to bring generous quantity to supply all the grumbly bellies & grabby hands. At our new church? People might not necessarily sign up in advance, but they show up with abandon! There are always leftovers. There is always enough for seconds, thirds, and sending leftovers home with people who might need extra food in their hands later. The way these folks bring to life real examples of loaves & fishes multiplying in real tangible ways, with joy and humility and thankfulness… cups overflowing… brings tears to my eyes. It is life-giving.
So as far as I knew, I was the only one who had signed up to bring food for the coffee hour yesterday, and I wanted to be a blessing. My mother has long blessed people with food, and that is one way I delight in following closely in her footsteps. (Someone needs a meal? We're having a potluck? People are coming over? I'm there!) I was raised in that you always bring twice as much food as you think you might need, because there is no blessing like the blessing of superabundant delicious food. So I made six dozen cinnamon rolls on Saturday. (That's a double batch, in my book, in case you're wondering.) I bought two big bags of gala apples to slice, and six pounds of easy-peel mandarin oranges. I put together a plate of sliced cheese with spirals of crackers. I had a package of rice crackers and a small gluten free coffee cake, to boot, because I am not the only one at our church who needs to eat gluten free out of necessity (you know, rather than fad).
Even just what I brought could have fed one hundred people, easily. But then other people showed up, arms full of edible blessings. Someone brought two dozen more freshly baked cinnamon rolls! Someone brought a few dozen Easter cookies fresh from a bakery, just the way the kids dream of. There were donuts and pastries that someone dropped off. And all of a sudden, coffee hour became a festive party. Afterward, we were able to package some things up for the freezer so that in other weeks we will once again have lots of goodies at church over which to have conversations about everything from the weather to Bible studies to childrearing to book collecting. And a few people went home with bags of leftover apples and oranges, handfuls of cookies, and cinnamon rolls to stash away for an afternoon snack. I'm pretty sure nobody needed to go eat lunch after that.
I was thinking back, upon looking at all that multiplication of food, how it just showed up naturally without anyone twisting arms or begging for people to provide it, and what a metaphor of God's grace and miraculous handiwork it is. He may have provided it through fairly predictable, human means… but He still provided it, and He still showed His grace & handiwork through it. It reminds us of other times when His provision was not predictable, and when His handiwork was miraculous & physically inexplicable rather than common or ordinary.
Mark 6:41-43
And taking the five loaves and the two fish,
[Jesus] looked up to heaven and said a blessing
and broke the loaves and gave them to the disciples to set before the people.
And He divided the two fish among them all.
And they all ate and were satisfied.
And they took up twelve baskets full of broken pieces and of the fish.
As I look back on the baking of my cinnamon rolls, which was a very ordinary way God worked to provide food for people ~ through a woman's hands working common ingredients together in a formulaic manner ~ I can also see another metaphor of God's goodness and work. I think of the beauty and the wonder of leavening. Of little tiny yeasts (which are single-celled fungi, isn't that delightful? read more here) that grow and produce bubbles, by eating sugar and producing carbon dioxide, and cause many wonderful changes in the lump they use for life. Scripture talks a lot about bad leaven (the leaven of the Pharisees, for instance), but Jesus also taught us about good leaven (in the parable of Matthew 13).
Matthew 13:33
"The kingdom of heaven is like leaven
that a woman took and hid in three measures of flour,
till it was all leavened."
Watching my dough double and rise until it flopped over the edge of the bowls in the warming oven… rolling it out, smothering it with buttery & sugary & spicy goodness, rolling it again & slicing it up into pretty little round pinwheels… then watching it puff and rise again… oh! It is such an encouraging thing, and reminds me so much of God's good works. In the dark, in the moist places, when the dough has been pounded and kneaded hard, and left for a while to rest and be on its own… amazing things happen not because I can follow recipes and not because I did things right, but because God is gracious. And even when God in His terrifying holiness seems so categorically unpredictable, He is yet predictable!! He is always gracious, always good, always benevolent and magnanimous! And those of you who know me, know that I don't say that through rosy colored glasses or eyes of ignorant bliss. I have felt the terrible hand of the Lord. I have been pounded hard, kneaded long, and left in dark places. But this is precisely where so much beautiful rising and multiplying happens. Because the Lord is gracious, He continues to further His kingdom in me, through me, and even in spite of myself.
What mercy!
A man's daily meal ought to be
an exultation over the smack of desirability
which lies at the roots of creation.
To break real bread is to break the loveless hold of hell upon the world,
and, by just that much, to set the secular free.
~Robert Farrar Capon, The Supper of the Lamb: a Culinary Reflection, p115~
So next time you too put together water, milk, fat, honey, salt, flour, and yeast ~ when you smother it with the fatness of creamy butter and the deliciousness of sweet sugar and pungent cinnamon ~ think about the work God accomplishes even in you. I imagine that you, like me, can see how we fit into the description of even a humble cinnamon roll meant to be ripped apart and enjoyed and shared and prayed over and devoured. I am mixed, kneaded, pounded, left, punched down, smothered in goodness, rolled tightly, sliced into pieces, left again, and heated by an uncontrollable fire, and at last slathered with a thick layer of even more fatty sugary goodness simply because God likes to pour grace on top of grace… and why? Because it blesses my King, gives delight to my Creator, and feeds others around me.
Because God is glorious.
Because sometimes He works through ordinary, common, daily means.
Because sometimes He wants us to smile, and simply see Him in things like rising dough and multiplying food.
Because this is where the Gospel meets the edible.
And it's good.